Vithas Almería Hospital - Hospital
Carretera del Mami, Km1, 4120 Almería, Almería

Opening hours:8:00 a.m.–8:00 p.m.
Vithas Almería Hospital
After continuous extensions and improvements, Vithas Almería Hospital is now a leading private medical centre in Almería for its implementation of the highest and most up-to-date technology.
In addition, the hospital offers the highest-quality care and hospital facilities supported by top doctors working every day to improve patients' health.
Cutting-edge medical care
The hospital offers state-of-the-art medical care in a large number of specialities, including:
 Cardiology
 General Surgery
 Bariatric Surgery
 Internal Medicine
 Neurosurgery
 Traumatology
 Ophthalmology
 Pain Unit
 Oncology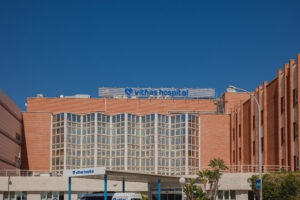 The team at Vithas Almería Hospital is made up of more than 100 top practitioners with proven experience, excellent professional credentials and devoted to ensuring patients' well-being and health.
Technological equipment
Bone densitometer
Gamma camera
Haemodynamics and interventional radiology​
Lithotripsy
Mammogram
Nuclear medicine
Magnetic resonance imaging
CT scanner
POSE and APOLLO methods
*Vithas Almería runs a FREE minibus service from Monday to Friday.
Departures and stops:
Paseo de Almería (by the old Zara): At half past the hour (last one leaves at 9:30 p.m.)
Vithas Hospital: At ten past the hour (last one leaves at 10:10 p.m.).